Not everything you find on the internet works like it says:
I just got the parts necessary to try the circuit above, but it does not work as described. I should have noticed
a big flaw right from the start, the light never shuts off! It can't because the current flows automatically through
the LED and diode without the other circuitry. Another article says the low power 7555 timer is supposed to
double the voltage so that it can be run off of one 1.5 volt battery, but it needs two to light at all! When it
gets dark it just causes the LED to blink at best! At worst, nobody ever tested the circuit to begin with.
Remove the 220 capacitor and the diode and move the LED down to where the diode was and you get a strobe
effect when the LDR or photocell gets darker.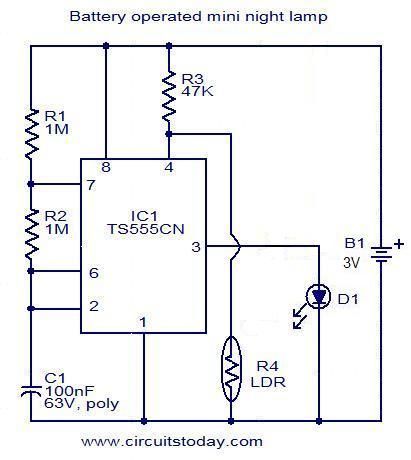 Remove the other capacitor and the light comes on when the LDR gets dark. Adjust the 47K resistance for sensitivity.
I don't have a scope to see what the timer is doing, but it turns the LED on immediately when it gets darker. The current
draw on the batteries is 100 uA off and 200 uA on. That compares with 25 uA off and 130 uA on with the circuit below.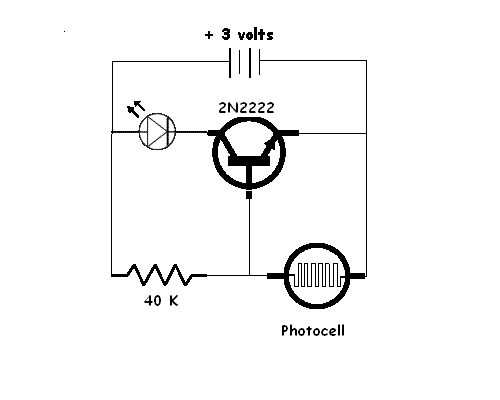 Photocells come in different low resistance ranges with most going up to 1 megaohms when dark so the
40,000 ohm resistance can be adjusted for greater of less sensitivity. This circuit comes on slowly as it
gets darker saving more battery life. The 555 LED seems slightly brighter because it generates a square wave.
Found another promising circuit I may be able to adapt:
(C) Courtesy of Tony Van Roon
The voltage requirements are higher and it will draw more battery current than a super bright LED
would alone. So far the simple circuit has been running for 2 days on 3 volts with little brightness change.