Found this interesting trick on the web:
http://www.instructables.com/id/Jar-Lantern/
" target="_blank
This Instructable project will use a disposable flash camera battery circuit to drive the CFL bulb.
So far I have only gotten the light bulb apart with a watch prying tool:
I pried for about 5 or 10 minutes until it slowly pried apart. I want to preserve the base for a better illusion.
The base edges can be sanded to get rid of the pry marks later.
The bulb comes apart to reveal the starting circuit board in the base:
There are 2 wires that come from each end of the tube. Twist both wires on each side together so you just have
just one connection to make from each end of the tube. Solder them together at the ends for wiring later.
Two wires come up from the bulb base to supply 110 volts to the bulb: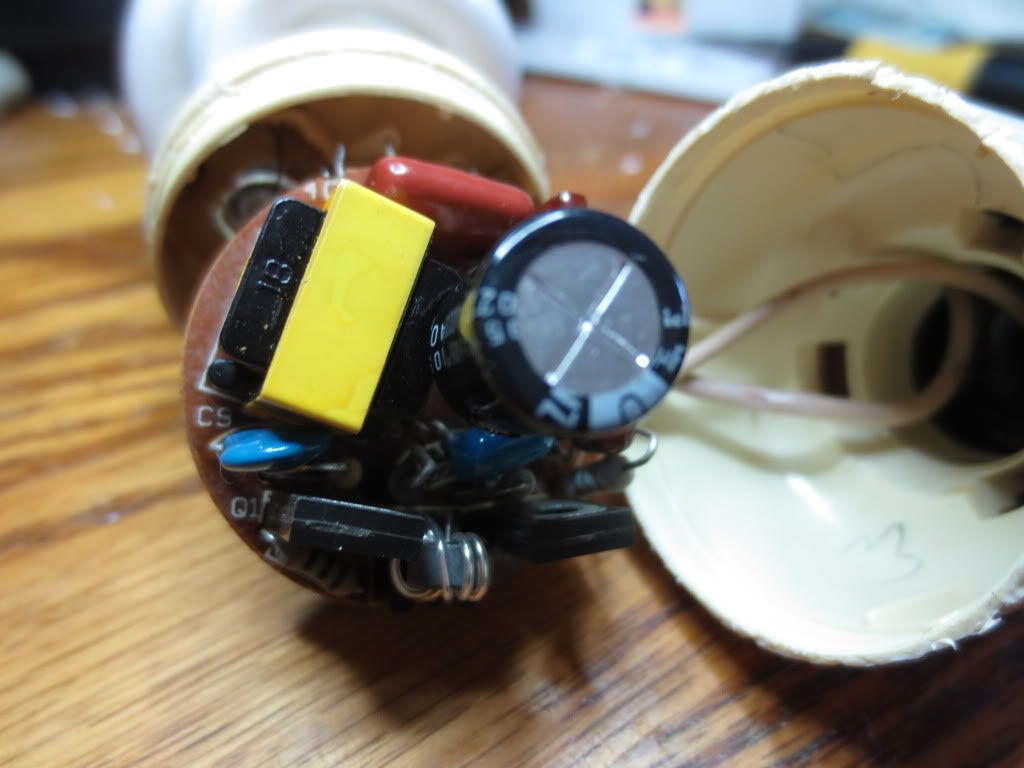 Not sure how this will work yet until I see what all is involved with the throw away camera.
I may be able to figure a way to fit the camera circuit into the base. If I can, I could use the base wires for the
battery connection.
Here's a common CFL ballast circuit setup using two DK43 transistors I found:
The circuit boosts the voltage long enough for the tube to start to conduct. Once it conducts it needs less voltage.
More on this tomorrow.